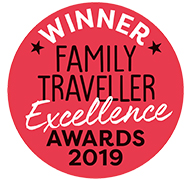 MOTIONGATE™ Dubai is the place for Hollywood-inspired fun and adventure in the Middle East, inviting guests of all ages to step into the magical, mythical worlds of some of cinema's most beloved movies.
Uniting three legendary film studios in one theme park – Sony Pictures Studios, DreamWorks Animation and Lionsgate – visitors will go beyond the screen and immerse themselves in the magic of Hollywood, ensuring fun for the whole family year round and creating memories to last a lifetime.
Spread across five zones, guests of all ages will be entertained by 27 key rides and attractions including rollercoasters, multi-media dark rides, interactive play labs, media-based theatre shows, plus a full program of roaming entertainment and live dance performances.
Inspired by 13 of Hollywood's most beloved live action and animated films, visitors will be transported into the world of movies including Shrek, Ku Fu Panda, Hotel Transylvania, Ghostbusters, The Smurfs and The Hunger Games.
With nine family-friendly restaurants, 15 themed retail outlets and a multi-purpose theatre, seating 1,000 guests, as well as multiple kiosks offering light bites and merchandise throughout the park, visitors have a full range of choices for dining, entertainment and relaxation beyond the rides and attractions. As part of its full-service offering, MOTIONGATE™ Dubai is enhanced with smart technology, smart queuing, shaded walkways and offers full access for visitors with mobility impairments.
If you are staying at a qualifying Hotel, then Dubai Parks and Resorts also offer a free shuttle service to the parks. Please see links below! To view the Dubai Parks and Resorts bus schedule, please click here.
IMPORTANT: Bookings are non refundable or amendable once booked.
Open-Dated Tickets-When you've Booked: You'll receive an initial confirmation from us immediately. This is NOT your entry ticket. If the arrival date is inside of 6 months, within 48 hours we will email your official Dubai Parks & Resorts ticket confirmation which will include the booking details and any further information. If the arrival date is outside of 6 months, we will email your official Dubai Parks & Resorts ticket confirmation within 6 months of arrival which will include the booking details and any further information.
Discover MOTIONGATE™ Dubai
Best-in-branded entertainment from three of the largest and most successful motion picture studios in Hollywood – DreamWorks Animation, Columbia Pictures and Lionsgate – complete your visit to a world of innovation and creative storytelling by visiting MOTIONGATE™ theme park.
Studio Central - Begin your journey into the world of film. Your journey starts by stepping into Studio Central at MOTIONGATE™ Dubai. Get transported into the Golden Age of Hollywood at the real life movie sets of New York City. Go behind the scenes and discover the illusion of filmmaking, theatrical opening shows and the characteristic executive offices of a working movie studio.
Columbia Pictures - Step into the adventurous world of Columbia Pictures. Hang on tight as you embark on a high-speed chase, Green Hornet style. Join the Ghostbusters in a paranormal battle to save New York City. Or take on the Lycans with vampire warrior Selene in the supernatural universe of Underworld. Experience an action-packed land with 7 attractions, including a family water ride, coasters and interactive shows where ghosts roam, zombies rule and meatballs fall from the sky.
Smurfs Village - Venture into the fantasy world of Smurfs. Welcome to the magical world of the Smurfs. Where fairy-tale mushroom-top houses capture imaginations and a colony of friendly blue Smurfs await at every corner. The village of the internationally beloved Smurfs offers 5 immersive attractions including interactive play zones, exciting family rides and a charming theatre show for all generations to enjoy.
DreamWorks - Immerse yourself in the world of DreamWorks. Have you ever wanted to soar through the skies with Toothless? What about joining the Furious Five on an epic martial arts escapade? You can, at this movie theme park! Explore four unique lands based on the blockbuster classics Kung Fu Panda, How to Train Your Dragon, Madagascar, and Shrek – all entirely indoors! Play the hero and save the day with 12 mind-blowing attractions. Experience roller coasters, thrilling family rides, multimedia theatre shows and interactive play zones that you'll never forget.
Lionsgate - Immerse yourself into the world of Lionsgate Films. With exhilarating thrill attractions and a high-energy live stage show, the Lionsgate Zone brings to life the fast-paced, action-fuelled world of The Hunger Games and awe-inspiring dance favourites Step Up: All In and Step Up: Revolution.
MOTIONGATE™opens 11am to 8pm (weekdays) and 11am to 9pm (Thursday and Friday)
BOLLYWOOD PARKS™ opens 1pm to 9pm (weekdays) and 1pm to 10pm (Thursday and Friday)
LEGOLAND® Dubai and Water Park daily: 10am – 6pm.
Ticket Information
Includes:
1 Day Entry to Motiongate™ Dubai
Validity: Tickets are valid for redemption for 6 months from the purchased date.
Address: Sheikh Zayed Road, Opposite Palm Jebel Ali, Dubai - United Arab Emirates
Additional Information:
You will be emailed a gate-ready Dubai Parks And Resorts e-ticket that must be printed on receipt. Upon arrival, simply scan the barcode at the gate for admission to the parks.
All guests entering Dubai Parks And Resorts are subject to the rules and regulations of entry as displayed at the main entrance and within Guest Services.
Height, weight, size and age restrictions and medical warnings apply to certain rides and attractions. These will be displayed at each relevant ride and attraction and made available from Guest Services.
Children under the age of 12 must be accompanied by an adult aged 18 years or over.
Children aged 0-2 years old may enter the parks free of charge and do not require a ticket.
Dubai Parks And Resorts reserves the right to vary the opening and closing dates and times of the attractions and to close, remove or cancel all or any part of the rides, events or facilities within the attractions for any reason including technical, health and safety and/or operational reasons or due to special events or private functions.
This ticket does not include parking fees, and parking is subject to availability.