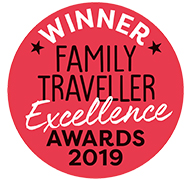 Dubai Parks and Resorts is the region's largest integrated theme park resort compromising three seperate theme parks and one water park. Dubai Parks and Resorts is where the best of the east meets the best of the west to create a world of fun and an adventure unlike any other.
LEGOLAND® Dubai:
The ultimate world of year-round LEGO® themed adventures for families with children aged 2-12. LEGOLAND® Dubai features over 40 interactive rides, shows and attractions and 15,000 LEGO model structures made from over 60 million LEGO bricks. LEGOLAND Dubai will feature six themed lands, each unique in their experience, entertainment and educational offering, including: LEGO CITY, KINGDOMS, IMAGINATION, ADVENTURE, MINILAND, and FACTORY.
LEGOLAND® Water Park:
LEGOLAND® Water Park is the only water park in the region designed specifically for kids aged 2-12 and their families, and the fourth in the world. The water park will feature more than 20 water slides and attractions, each offering a different and fun -soaked experience. Moreover, LEGOLAND Water Park will offer a full range of amenities, including dining and retail outlets; changing rooms, cabanas, guest services, first aid and prayer rooms are all available in the LEGOLAND Water Park.
Both Parks are specifically designed for families with kids aged 2-12 years old, however guests of ALL ages are welcome.
The Resort is also home to Riverland™ Dubai, which is the gateway to Dubai Parks and Resorts. Journey through time and experience the street ambiance, theatres and cuisines from four distinct eras which have shaped today's landscape: The French Village from the 1600's, Europe of the early 19th century, the British Raj of the 1930's and the Americas of the 1950's.
If you are staying at a qualifying Hotel, then Dubai Parks and Resorts also offer a free shuttle service to the parks. Please see links below! To view the Dubai Parks and Resorts bus schedule, please click here.
IMPORTANT: Bookings are non refundable or amendable once booked. Customers wanting to visit both LEGOLAND® Dubai AND LEGOLAND® Water Park must purchase a ticket per park.
Open-Dated Tickets-When you've Booked: You'll receive an initial confirmation from us immediately. This is NOT your entry ticket. If the arrival date is inside of 6 months, within 48 hours we will email your official Dubai Parks & Resorts ticket confirmation which will include the booking details and any further information. If the arrival date is outside of 6 months, we will email your official Dubai Parks & Resorts ticket confirmation within 6 months of arrival which will include the booking details and any further information.
Important Information: Legoland Waterpark will be closed for maintenance from 12th January 2020 until 26th March 2020.
FACTORY - FACTORY is where the family fun begins! Tour the LEGO® Factory to see how LEGO bricks are made and visit The BIG Shop, the largest LEGO store in the Middle East!
LEGO® CITY - Welcome to the coolest city around where you can fly a plane, steer a boat, save a burning building or even earn your very own. LEGOLAND® Driving License! Determination and teamwork are the building bricks in LEGO® CITY.
IMAGINATION - This is the area for every LEGO® fan to enjoy. Here you can build and race LEGO® cars or build with LEGO MINDSTORMS® robotics. On LEGO® Technic Twister, it's you versus the centrifugal forces that'll get you spinning with excitement. But there's more than just courage to be built in this region; hoist your way up the Kid Power Towers, from where you can view the entire Park.
KINGDOMS - Save the day in this medieval land and conquer the exhilarating Dragon coaster through the King's castle. Younger knights and princesses can also join in the fun and ride the Dragon's Apprentice. Families up for the quest will love a quick whirl around Merlin's Challenge.
ADVENTURE - aa Young explorers seeking an adventure will find just that in this land. Join the LEGO® divers on a captivating underwater adventure for the whole family; power ski on Wave Racers as you dodge water blasts and journey through ancient temple ruins to recover a pharaoh's stolen treasure.
MINILAND - Your family day is not complete without a visit to MINILAND, the heart of every LEGOLAND® Park. LEGOLAND® Dubai is excited to bring you the first ever indoor air-conditioned MINILAND! This interactive area is made up of an impressive 20 million LEGO® bricks featuring Dubai's iconic skyline and key landmarks from around the Middle East, where guests can bring the models to life at the touch of a button. Build a City is an exciting feature where guests will find a ten-metre play table with white LEGO® bricks allowing them to create an ever changing city skyline.
Splash your way through a full day of LEGO® themed family fun at the only water park in the region designed specifically for families with children 2-12.
Over 20 water slides including family raft, body and tube slides
LEGO® Wave Pool
Build-A-Raft-River where you can build your own custom LEGO raft
DUPLO® toddler play area and slides designed especially for the smaller ones
2 restaurants
1 Shop
Cabanas (for rent)
Rides & Attractions:
LEGO® Wave Pool - Catch a gentle wave or simply cool off in this LEGO® themed wave pool where the waves are just big enough for the whole family to enjoy.
Build-A-Raft-River - Who can build the biggest, best LEGO® raft? You can! Imagine, design and build your own unique LEGO vessel and float around the lazy river.
DUPLO® Splash Safari - Splash time! Toddlers will love this water play area with four "toddler sized" slides and larger than life LEGO® DUPLO® characters.
Joker Soaker - Are you ready to take on the Joker? This fun and interactive water playground with slides offers something for every family member.
Twin Chasers - Race each other on these double body slides shooting you into a wading area below... who will reach the bottom first?
Splash Out - Speed down the 60 foot drop of this open body slide and 'splash out' into the water below.
Red Rush - The whole family can ride together in a family-sized raft down a long curving track then into 3.5 metre half pipe.
Splash-N-Swirl
Twist-N-Spin - Spin down the slide on your own or with a friend on a double tube and enjoy endless twists and turns.
Wave Rider - Zoom your way down in this open body slide straight into the water below.
Tidal Tubes
Build-A-Boat - Here is where the creativity really flows. The whole family can each build their own boats with LEGO® bricks and put them to the test. Will yours be the best?
Master Jugglers
Junior Joker
Jokester Run
LEGO® Slide Racers - Grab your mat and get ready to race! This exhilarating slide will have you racing against 5 other friends but be warned, it sure is wet and wild!
LEGOLAND® Dubai and Water Park daily: 10am – 6pm.
Ticket Information
Includes:
1 Day Entry to LEGOLAND® Waterpark Dubai
Validity: Tickets are valid for redemption for 6 months from the purchased date.
Address: Sheikh Zayed Road, Opposite Palm Jebel Ali, Dubai - United Arab Emirates
Additional Information:
You will be emailed a gate-ready Dubai Parks And Resorts e-ticket that must be printed on receipt. Upon arrival, simply scan the barcode at the gate for admission to the parks.
All guests entering Dubai Parks And Resorts are subject to the rules and regulations of entry as displayed at the main entrance and within Guest Services.
Height, weight, size and age restrictions and medical warnings apply to certain rides and attractions. These will be displayed at each relevant ride and attraction and made available from Guest Services.
Children under the age of 12 must be accompanied by an adult aged 18 years or over.
Children aged 0-2 years old may enter the parks free of charge and do not require a ticket.
Dubai Parks And Resorts reserves the right to vary the opening and closing dates and times of the attractions and to close, remove or cancel all or any part of the rides, events or facilities within the attractions for any reason including technical, health and safety and/or operational reasons or due to special events or private functions.
This ticket does not include parking fees, and parking is subject to availability.