Discovery Cove is an exclusive, all-inclusive, family tropical paradise, an oasis of calm and tranquillity in the heart of Orlando. Enjoy a day at Discovery Cove and swim with rays in tropical lagoons, snorkel in coves with shoals of exotic fish, relax on sun-warmed beaches of pristine white sand, feed rare, exotic birds and swim with dolphins in the turquoise waters of a beautiful dolphin lagoon.
SeaWorld Reservation System Update;
Each of our all-inclusive Discovery Cove packages include snacks, full meals and drinks throughout the day, use of all equipment such as snorkels, wetsuits, towels and swim vests, the use of beach chairs, sunscreen and lockers and free all-day self-parking for your car. Swim with dolphins in the Dolphin Lagoon™, feed the exotic birds in the Explorer's Aviary and enjoy unlimited use of the wonderful Discovery Cove beaches, pools, tropical lagoons and coves. Indulge yourself with a day at Discovery Cove.
The Grand Reef®
The 10,200 square-metre tropical, underwater world features multiple levels of exploration. From shallow waters to deeper swimming adventures and white sandy beaches, to snorkelling among canyons inspired by reefs from around the world, The Grand Reef is perfect for families.
Freshwater Oasis®
Freshwater Oasis features swimming and wading adventures and face-to-face encounters with playful otters and curious marmosets.
Designed with a rainforest canopy above and sparkling clear springs below, Freshwater Oasis is a natural fit with Discovery Cove's tropical vibe.
All of the family can experience this tropical setting, with most of the water at waist height and various levels of exploration where guests can wade, swim and float in the water-filled trails and discover marmosets and Asian otters. Freshwater Oasis is included with your admission to Discovery Cove.
FOR 2022 & 2023 departures: Your Ultimate Package (Swim or Non-Swim) entitles you access to SeaWorld, Busch Gardens and Aquatica for 14 days including FREE parking for the duration of the ticket.


© 2022 SeaWorld Parks & Entertainment Inc. All rights reserved.
Children must be at least 6 years old to swim with the dolphins. Children under 13 must be accompanied by an adult to gain entry to Discovery Cove. Children aged 6-12 years old participating in the dolphin swim experience must now be accompanied by a paying adult who is also participating in the dolphin swim experience. This ticket will be an e-ticket. Swim vests are required in water depths of 4 feet or greater. Life jackets available upon request. Water socks or rubber sandals are suggested. Check in begins at 8.00am daily.
IMPORTANT INFORMATION:
NO amendments can be made on Discovery Cove bookings. If a booking has been made and is incorrect it will need to be cancelled which may incur charges.
Dolphin interactions must have a "Minor" waiver completed by the parent/legal guardian. If the parent is not present at check in we will also need a photo copy of their DL or government issue photo ID to verify signature. Chaperones will be able to sign waivers if they have been given legal guardianship/power of attorney and have that paper work on file with Group Sales or bring a copy of that paperwork on check in.
For swim packages, children must be over 6 years of age.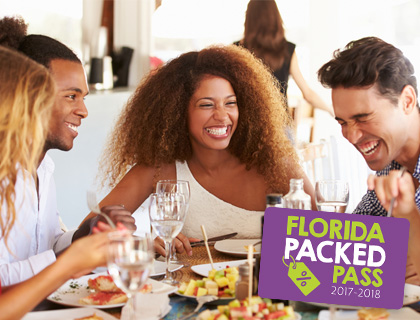 Make huge savings in Orlando with our EXCLUSIVE freebie!
For a limited time only, we're giving away a FREE Florida Packed Pass e-card with all key Florida parks bookings. The Florida Packed Pass gives you massive savings on dining, shopping and activities at over 100 different venues in Florida!
Each e-card can be used for up to 4 people, as many times as you like! Just flash your card and watch the $$$'s drop off...
Tell me more...
Your customers will automatically receive the free e-card with their e-tickets when they purchase any of the following:
Walt Disney World Resort in Florida

Universal Orlando Resort™

SeaWorld® Orlando

Aquatica™ Orlando

Busch Gardens® Tampa

Discovery Cove® Orlando

Our combo tickets are also included!
Want to check out all the deals and offers available? Follow this link www.floridapackedpass.com
T&C's: Valid on all 2019 and 2020 bookings. 1 card per booking.1 card is valid for up to 4 people only. Limited stock offer. NOT valid for 2021 arrivals.
The Busch Gardens Shuttle Express Service will resume as of January 31st 2022. The service and provides a return service from the Orlando area to the park in Tampa.
Drop off and pick up locations are as follows:
SeaWorld (near the bus & taxi drop-off)
ICON Park, 8350 Universal Blvd (8445 International Drive, (in the heart of the Entertainment district of I-Drive)
Publix, 8145 Vineland Avenue, Lake Buena Vista (near Premium Outlets – Lake Buena Vista area)
Old Town Entertainment District, 5770 W. Irlo Bronson Memorial Hwy (serving 192 East in Kissimmee)
Doubletree Orlando by Hilton at the Entrance to Universal Orlando, 5780 Major Blvd, Orlando, FL (serving North International Drive area and Universal Orlando guests)
Margaritaville Resort – 8000 Fins Up Circle, Kissimmee
The service schedule will vary through the year and be subject to change. For guidance purposes only, the Orlando area pick up will be between 08:30 and 09:30 - depending on location. The return journey from Busch Gardens will depend on park closing time and vary throughout the year.
Please ensure that you make a reservation for the Shuttle Express to secure your seats. This can be completed by calling 800-221-1339 or visiting https://buschgardens.mears.com. Schedules can be confirmed at this stage.
This service is be complimentary to all guests with a multi-park, Busch Gardens inclusive ticket in hand.
Package includes:
Discovery Cove Package
Plus unlimited access for 14 consecutive days to SeaWorld AND Aquatica.
Please enter a preffered date you would like to swim.
DOLPHIN SWIM package includes:
Enjoy a reserved 30 minute dolphin swim experience with a dolphin swim package.
Unlimited access to the Tropical Reef, Stingray Lagoon, Wind-away River, Explorer's Aviary and Serenity Bay.
Delicious Food - All Inclusive
Enjoy an amazing freshly prepared 3 course meal for lunch.
Plus receive a continental breakfast and snacks such as nachos, fresh fruit and smoothies throughout the day.
Drinks are also available including water, soft drinks and alcoholic beverages for those over 21.
Non-Dolphin Swim package includes:
A non dolphin swim package includes everything highlighted above apart from the 30 minute dolphin swim.
All food, snacks and drinks at Discovery Cove are included in the cost of your package. Digital photographers and videographers are in the water during your dolphin interaction. Photos are at an additional cost and paid for locally.
PLEASE NOTE: You can however use your 14 day SeaWorld Orlando and Aquatica ticket before and after your ticket date. Waterparks are subject to close due to weather conditions without prior notice.
Children must be at least 6 years old to swim with dolphins. Children ages 6-12 must be accompanied by a paying adult (18 or older) who also is participating in the Dolphin Swim Day Resort Package. If a guest is 13-17 years of age, their parents must sign the waiver and may do the interaction without an adult.
Please note this ticket is non-refundable once booked - 100% cancellation charges apply.
Please note, for swim packages, children must be over 6 years of age.